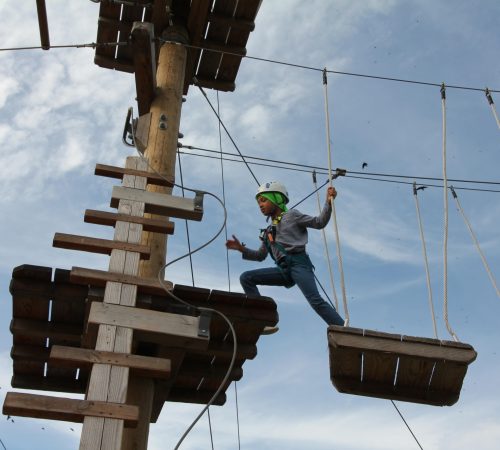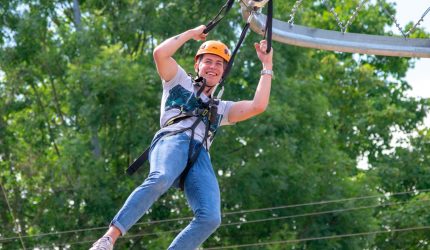 New
Zip Coaster
The latest innovation from Van Riswick! This attraction combines the speed of a zipline with the thrill of a roller coaster. With speeds ranging from 20 to 40 kilometers per hour, the Zip Coaster is a spectacular adrenaline flight through the air!
Read more
Climbing park and climbing forest
A climbing par and climbing forest offers endless possibilities and various obstacle elements that guarantee a ton of fun! A climbing course can go from easy to difficult and may contain different heights, so that there is a challenge for everyone. For example, think about climbing over ropes, zigzag bridges, beams or jumping from post to post. These activities allow customers being highly active and challenged in a fun and exciting way! Designing and building climbing parks has been our specialty for years.
Read more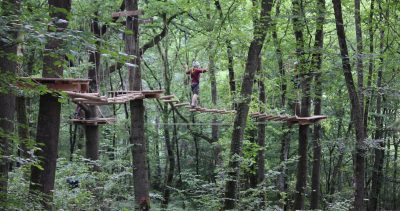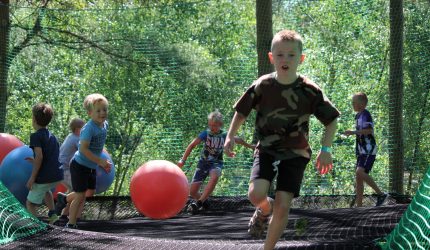 Net Adventure
The Net Adventure is an activity that is suitable for everyone, but is primarily intended for the younger generation. Children from the age of 4 can have a great time here, as they can bounce and jump for hours on end. The course is surrounded by nets, so there is no need for a climbing harness. The large net fields can be combined with a trail of suspension bridges or net paths.
Read more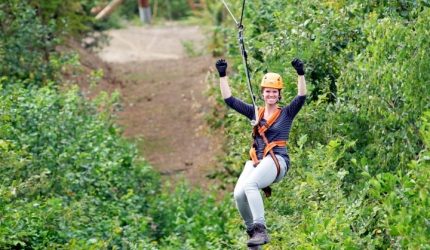 Zipline
A zipline is the ultimate thrill for those who dare to travel through the air at high speeds. The zipline contains numerous possibilities, for it can be installed as part of a climbing park, as a permanent installation or as a temporary installation at (seasonal) events. Moreover, it can also be built as a stand-alone activity, as a single zipline, as a zipline course or as a duo activity! In addition, the zip line can be installed at almost any indoor or outdoor location. Curious about the possibilities for your desired location?
Read more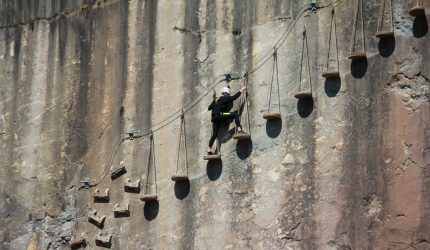 Via Ferrata
The Van Riswick Via Ferrata is a fantastic way to take advantage of an underused area of your location! We designed The Via Ferrata after taking inspiration from the phenomenal mountain routes in the Alps. In short, The Via Ferrate allows participants to climb up through various climbing elements while being secured to a steel cable. It is a super fun and challenging climbing activity for all ages!
Read more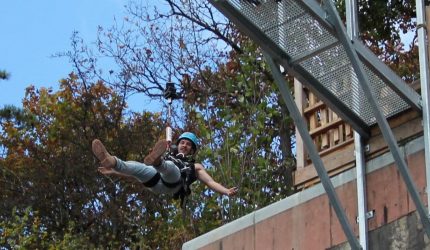 Free Fall
The free fall can be compared to a bungee jump. The participant is secured to a Free Fall unit and subsequently jumps from a height which can range from 7 to 32 meters. It is a spectacular activity and very popular among daredevils and those who desire a great adrenaline rush.
Read more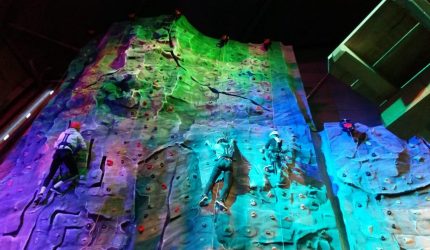 Climbing walls
We build custom made climbing walls and climbing objects for indoor and outdoor use.
Read more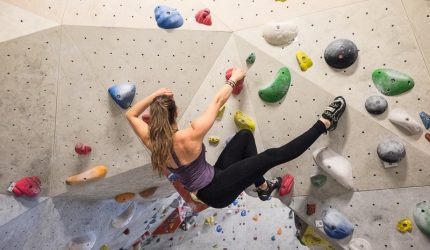 Bouldering
Bouldering is a discipline within the climbing sport. It involves climbing a short route that is often close to the ground, on a real or artificial rock, and without the use of a rope or other form of fuse, other than a fall mat. Similar to regular route climbing, French climbing rate levels are maintained in bouldering.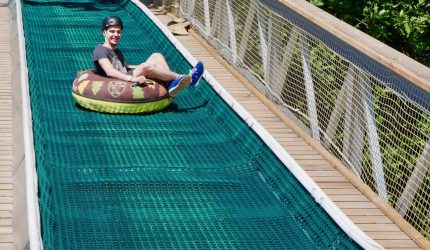 Tubing track
The tubing track involves slipping off a track at high speed in an inflatable tire. It is a super fun activity for all ages, and it can be installed both indoors and outdoors. We use dry ski slope tiles with a thickness of 36.5 mm to create the track. These tiles not only make the track very durable but they also offer many possibilities, for the track can be made as short, as long, as straight or as curved as the client wants. Tubing tracks are suitable for children from the age of 6 years. The edges of the trails are raised, so participants are unable to spin out of the track. Hence, the track is safe to use.
Read more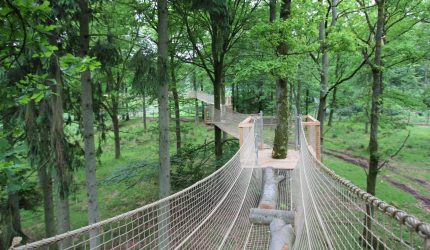 Hiking trail at high altitude
This is a great attraction for a zoo or nature park in a wooded area. The high altitude hiking trail with suspension bridges connected by tree houses and watchtowers offer an unforgettable view of the area surroundings. It's a fantastic experience for young and old!
Read more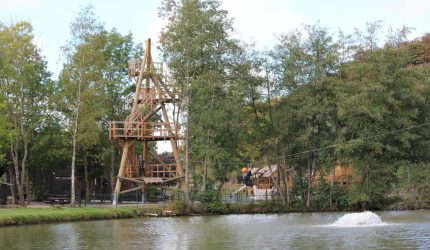 Tipi tower
The tipi tower is a characteristic object with a very strong construction. The tipi tower can be very versatile. For example, the tower can be built as an observation tower, but also as an adventure tepee or bridge frame for suspension bridges.
Read more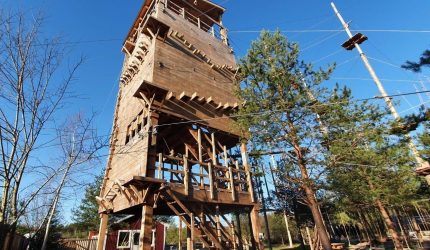 Adventure Tower
Our multifunctional Adventure Tower is designed to combine different adventure activities. Due to the extremely robust construction, the tower can be built up to a height of 25 meters. Its customization allows for a variety of possibilities and makes each tower unique in its kind.
Serving as the starting point of the climbing routes, you can also choose to add various daring activities to the tower such as a Free Fall, a Zip Coaster, a (traditional) climbing wall, a speed climbing activity or a Via Ferrata to the Adventure Tower. The unique design makes these, sometimes imposing towers, true eye-catchers!
Suspension bridges
An Adventurous Suspension Bridge is not only useful for a crossing, but it can also offer participants magnificent views. Hence, it can be of significant value to your location! Van Riswick does not merely supply suspension bridges, but we customize the bridges to fit each location. For example, we can build suspended bridges above water or above solid ground, and in every desired length.
Read more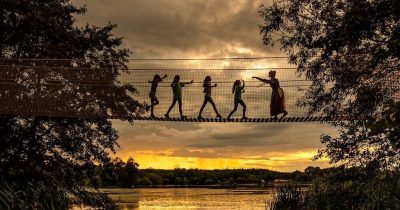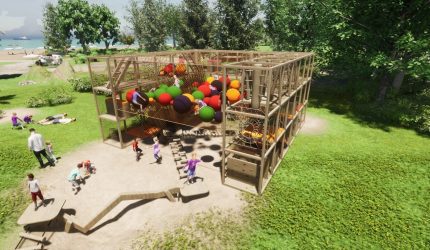 Play Cage
Crawling, climbing, sliding and playing. The play cage is full of different playful challenges! It is fully customizable as it consist of two or more floors, and can be built both indoors and outdoors.
Read more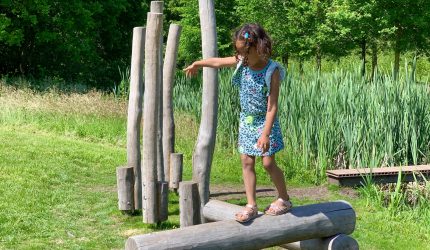 Playground equipment and Playground design
We develop, produce, install and maintain wooden playground equipment.
We set up playgrounds for schools, childcare locations, public spaces such as residential areas, squares and parks and for recreation entrepreneurs such as zoos, amusement parks and bungalow parks.

Read more