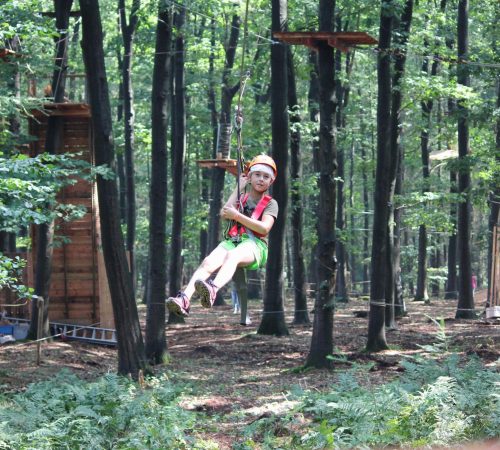 Klim- en kleuteravonturen voor iedereen!
Het Klim & Avonturenbos in Goirle bouwden wij in de zomer van 2015. Dit klimbos heeft 3 klimroutes en een rolstoelparcours. Naast de klimroutes bouwden wij in dit klimbos ook verschillende teambuilding activiteiten en een kleuterparcours voor de allerjongsten.
De wens van de klant
Een klimbos met 3 leuke en uitdagende klimroutes, geschikt voor jong en oud en met de mogelijkheid tot uitbreiding in de toekomst. Als speciale wens een rolstoelparcours en een aantal teambuildingsactiviteiten.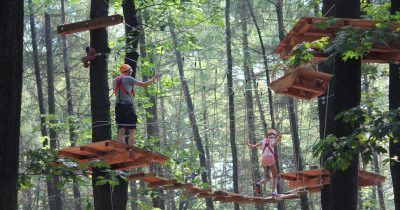 Het resultaat
Een klimbos voor alle leeftijden en voor geschikt voor mindervaliden.

Specificatie van de klimroutes:
4 – 5 meter hoog, 11 hindernissen, 90 meter
6 – 7 meter hoog, 11 hindernissen, 100 meter
6 – 10 meter hoog, 3 zip-lines, 135 meter
Rolstoel klimbos
Het rolstoelparcours is aangelegd op een hoogte van 5 meter met als afsluiting een rolstoel zipline van 35 meter lang.

Veiligheid
Als zekerheidssysteem wordt gebruik gemaakt van de Expoglider. Dit is een continu zekeringssysteem waarbij de deelnemers vanaf het startpunt tot het eindpunt gezekerd zijn en niet los kunnen komen van de veiligheidskabel. Veilig en gebruiksvriendelijk!
Lees meer over het Expoglidersysteem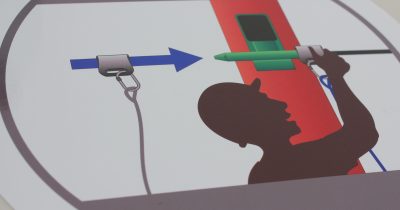 Veel gestelde vragen m.b.t. klimbossen
How long does a project take on average?
This strongly depends on the location and size of the project. We can give a clear time indication prior to the start of your project. Hence, an indication can be given once we have received, discussed, and processed all necessary information into a preliminary design.
Similar portfolio