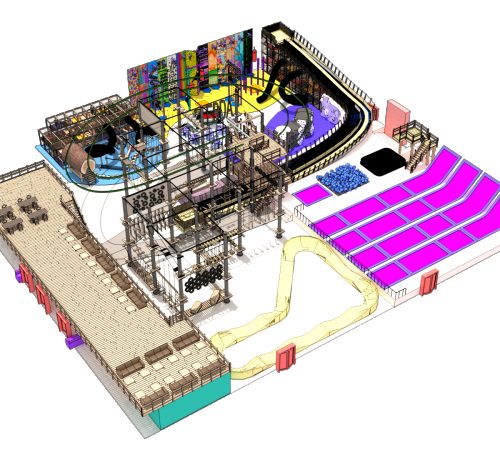 Indoor
EBDA Adventureparks
2021
Year of construction
6 weeks
Lead time of project
For our client, we built Saudi Arabia's very first (indoor) adventure park in the city of Riyadh. The client's wish was to create an adventure location for family outings, a place where young children can play for hours, but where older children and adults can also go for a day of adventure sports and great fun. Our design team created an adventure concept with a center tower surrounded by several zones with various activities and a large terrace.


Play Zone with Monkey Adventure
Zone 1
For the younger visitors we designed a custom XXL Playcage with 3 floors. The play cage has two entrances, various obstacles and several slides. We chose to design this cage without fixed routes. During the opening of this park, the Monkey Adventure was very popular!
About Play Cages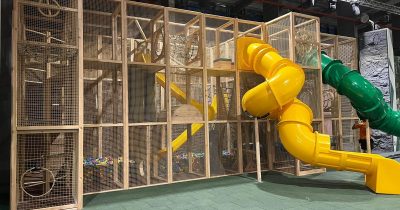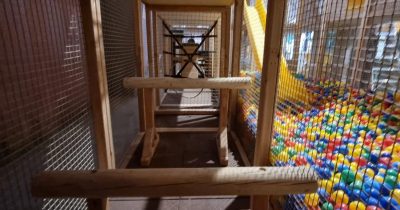 Pumptrack
This custom-made pumptrack is made of wood and is widely applicable. The track is suitable for many target group, such as skaters, freestyle step and BMX.
Climbing Zone with autobelay
The climbing zone consists of 10 Climb-Up climbing panels and free-standing climbing objects. Participants attach themselves to the autobelay system and can climb independently. We have personalised all 10 Climb-Up panels for our client. Each climbing panel shows a landscape which can be found in beautiful Saudi Arabia.
Ropes Course, ZipCoaster and Free Fall
Challenge Zone
The central Challenge Zone includes a tower with three activities: The ropes course with multiple routes varying in difficulty and height, the ZipCoaster and for the real daredevils a Duo Free Fall.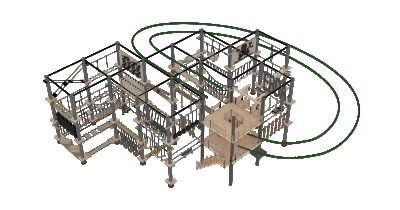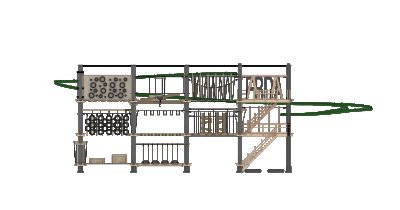 Trampolines, Foampit and BagJump
Jump Zone
The Jumpzone is set up as a trampoline park with 3 activities. Trampolines, Foampit and the BagJump.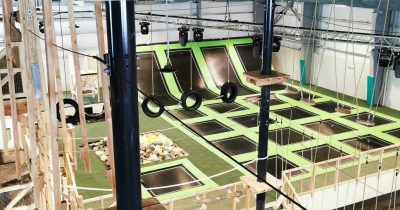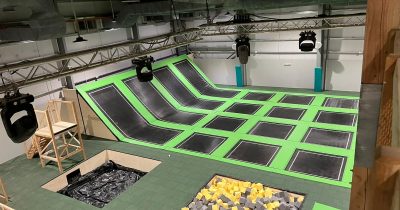 Bouldering
Vertical Fitness Zone
In the Vertical Fitness Zone, we built a custom bouldering wall and bouldering block. Bouldering is very accessible for everyone. From beginners to top athletes, young and old. The boulder wall and boulder block have various routes, suitable for every level.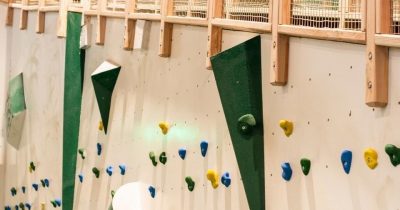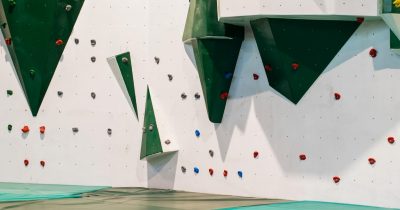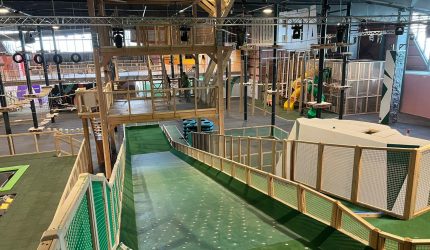 Indoor Tubing Slide
Fun Tubing
Fun Tubing is the perfect activity young and old. In a tube you slide down the track at high speed. A super fun activity!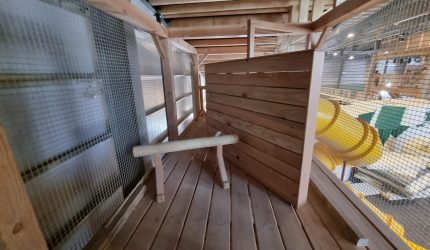 XXL Play Cage
Ninja Zone
In the Ninja Zone we also placed an XXL Play Cage with more challenging obstacles like in a Ninja course. The series of challenging elements should be completed as quickly as possible. Strength, agility and fun, who will be the quickest?